"Click for good. Makes it easy": ByCard & UNIHELP start the charitable event!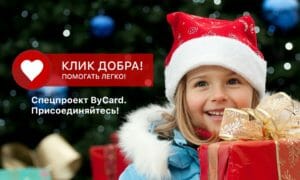 From 15, December there are labels with the mark "Click for good" on some events bycard.by, that means the relay-race of kindness starts and leisure fun are invited.
Its essence is simple: starting from December 15th when you purchase tickets to the event, which is marked with the label "Click for good. Makes it easy", you will help seriously ill children and children's social institutions of the Republic of Belarus by contributing certain percentage to UNIHELP.
What can be easier? You choose the fun and children continue to believe in a miracle getting help and support. We congratulate everyone with upcoming holidays, create New Year's spirit and help all the good to happen more often!